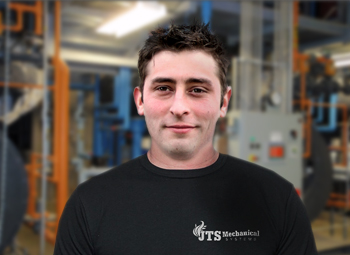 JTS Mechanical Systems Inc. is dedicated to serving its client with quick reliable service. Owner Josh Freiburger has been in the local mechanical trade for 20 years and knows what it takes to service a customer. They have been steadily growing a reputable clientele and increasing their presence in the commercial and industrial industry methodically and carefully, maintaining their core value:

Customer Service
No matter what, JTS have you covered…
Maintenance, repairs, troubleshooting and installation of all commercial and industrial Heating, Ventilating, Air Conditioning, Plumbing, PLC & Refrigeration systems. Additionally, scheduling maintenance for your equipment has never been easier! When you are a contract customer, your equipment maintenance and service history controlled by JTS and allows you to be worry free. With our electronic scheduling system you can relax knowing your equipment will be automatically scheduled for its maintenance without you having to remember to pick up the phone and call.

Plumbing
Even small plumbing problems in your home or business can become serious very quickly so be sure to have them fixed as soon as possible. Call JTS Mechanical Systems Inc. even for the smallest plumbing job.
Heating and Cooling (HVAC)
HVAC (Heating, Ventilation and Air Conditioning) whether commercial or residential requires regular maintenance to keep it functioning consistently and efficiently. Let us know how we can help!
Electrical Contracting
JTS Mechanical Systems Inc. are electrical contractors who are certified, licensed & dedicated to quality and excellence in all that we do. We can help you on a new project, repair issue or be available 24/7 for emergency calls.
Contact Us
TODAY
To find out more about we can meet any of your
mechanical, plumbing, electrical or HVAC needs.